Doctors with the German Approbation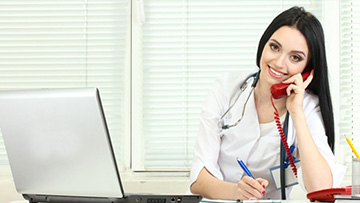 Doctors with a German degree have excellent career prospects in Germany. We are happy to help you clarify all your questions and we are enthusiastic about finding you a workplace that can fulfill your expectations and future goals.Whether you are in Germany or outside, we offer consultancy to find your dream job and also the following:
Application and Methods for getting the German "Specialist Certificate" in any specialty (Facharzturkunde)
Registration with the Medical Chamber
Exemption from statutory pension insurance and registration for medical care for Doctors. This will bring you many benefits when you are in retirement age
Registration with a legal health insurance company for you and your family
Legal advice on the employment contract
Request the tax ID from the tax office
Tax advice and tax declaration for 2 years for free
If you have the desire to own a practice, we will not only provide you with advice, but will also help you take over an already existing practice without personal investment. This option is offered by us in cooperation with regional Associations of Statutory Health Insurance Physicians, physicians, banks and city administrations.
Welcome pack
Support for moving from your current country to Germany
Organization of an apartment
Support for childcare
Dual Career
Consectetuer adipiscing elit
As a doctor, you need to consider the following steps:
Plan and think about this life changing decision very carefully. Consider, for example, that you must adapt to the German culture, which can be very different from your own. Are you ready to open up for other ways of thinking and adapt to the German lifestyle? Here you have real chances of career development, integration and enjoy a high life standard and quality. Your family will also profit from a safe environment and very good education possibilities. Nevertheless, you must be prepared to perform well and be serious about work.

---

You should carefully choose under which paragraph of the German Residence Laws (Deutsche Aufenthaltsgesetze) you would like to apply for an entry permit to Germany. Each paragraph involves a different approach and requires different documents to be submitted to the German embassy. The application with all necessary documents should be submitted to the German Embassy around 3 months before the travel date.

Proof of German language skills is one of the most important prerequisites for obtaining your visa, residence and work permit in Germany. The minimum language level required is B2 - but the higher your level, the better.

---

Coming to Germany will require an initial investment. Costs include, for example, expenses for translations and legalization of all documents, visa fees, language course, cost of living in Germany before beginning to work, processing fees charged by numerous German authorities, etc. This investment will be returned in short time after you start working. Nevertheless, you need to have the resources readily available before your travel.